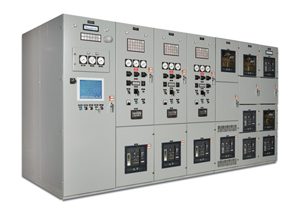 Russelectric
Russelectric is a company dedicated to providing high-quality products with the longest and most comprehensive warranty in the industry. All products are made in the USA. Since 1955, Russelectric has grown into the world's most respected manufacturer of automatic transfer switches and power control systems/equipment.
Paralleling Switchgear
Russelectric custom designs and builds low and medium voltage power control systems to meet strict performance, safety, reliability, and quality requirements. Redundant industrial quality PLC controls ensure seamless system operation in the event of control system failure.
Custom designs can be equipped with control schemes such as:
Emergency power
Soft loading
Load curtailment
Peak shaving
Utility paralleling
Cogeneration
Prime power
Voltage classes/ratings
Automatic Transfer Switches
Russelectric automatic transfer switches are high-speed switching devices designed to transfer electrical loads from a preferred power source to an alternative power source when voltage/frequency varies from preset limits. Once the preferred power source is restored, loads will be transferred back to it. The automatic transfer switches use simple electrical operators to provide a high-speed quick-break, quick-make, pre-loaded transfer.
Russelectric transfer switches are meticulously inspected both mechanically and electrically under simulated operating conditions before shipment. The transfer switches are built rugged for long life, minimum maintenance, and trouble-free service. Rapid and reliable arc quenching is built into the interrupting chamber of Russelectric transfer switches.
Visit the Russelectric website